Recent TTN News Content
• Frosty the Snowman provided a chilly break from Florida's warmer winter weather - Visiting up North was an experience that a Floridian could enjoy, but coming home to warmer weather makes one appreciate Florida. ...
• Women prisoners count their blessings on a tearful Thanksgiving at Lowell Prison - Visits on Thanksgiving were all too short at Lowell Prison where children were asking "Why can't I stay with Mommy?" Columnist Jack Strickland visits at Lowell and writes a riveting story about the emotions of the day as families got together all too briefly. He came away with both a feeling of sadness and of joy. ...
• "Souls to the Polls" march re-enacts history to inspire students at FAMU to vote in the election - FAMU students recreated history on Sunday with a march to the polls to demonstrate the importance of voting and to inspire students to vote in the national election. ...
• Florida women's prison is nightmare as prisoners endure humiliation, poor medical care, rip-offs - Florida's major prison for women is an endless nightmare for those who have to endure the permanent psychological scarring that results from little privacy, no meaningful rehabilitation, general neglect of medical care by the prisons, and the rip-off of high prices for phone calls and items supplied by private contractors. ...
• Question is whether Adelson family was involved in Markel murder, and motives of the suspects - Questions remain unanswered about release of evidence and possible motives for murder - were suspects trying to extort money from Adelsons? ...
• Small explosion causes chaos at Florida A&M University - An explosion at the FAMU campus Thursday was actually a dishwasher catching fire. However it did cause a scare among faculty, staff and students at the Presidential Dining Hall. ...
• In a surprise appearance, Shaq has a ball inspiring neighborhood kids to dream big - A surprise visit by the former star basketball player to Gainesville and the police department brought out good feelings all around as kids got to play with superstar. ...
• 'Cash register justice' for the poor means no justice for many in Florida courts - Prosecutors now seek to extract fees from indigent defendents to help pay office costs, causing possible miscarriage of justice, says national justice center. ...
• If Jeb Bush ever really went to prison in Florida, he wouldn't get a happy reception - The disaster of corruption, privatized prisons, and loss of competent leadership in state prisons is Jeb Bush's legacy in Florida. ...
• Court fails to convict police officer in NC shooting death of former FAMU football player - Family pleads for calm as jury fails to find officer guilty in shooting death of Jonathan Ferrell in Charlotte; no decision yet on retrial. ...
• Carson wins best dressed while Trump brings up the rear in the clash of haberdashery at GOP debate - Who was dressed to win the recent GOP debate? Who wore the most stunning tie, and the best cut suit? Looks like neurosurgeon Ben Carson knows how to dress. Donald Trump, who sells a line of clothing, ironically finishes last. ...
• FSU could receive NCAA sanctions similar to those of Penn State sex scandal - Recent events will add up to more problems for Florida State University when NCAA and Title IX investigators report their findings. ...
• Gators end Florida State's baseball hopes in big wins in Gainesville; on to the Series - Getting back into the College World Series was a dream for both teams, but the Gators managed to teach Florida State a lesson or two. ...
• Miracle of heart transplant puts 'inoperable' Rachel, 10, back in the arms of her new family - The dramatic story of how 10-year-old Rachel McCary got her new heart and a new chance to live is told by Jack Strickland who watched closely at the hospital in Gainesville while a miracle was performed. ...
• Colorful veteran George Barnes' last words were "Don't give up the ship" - George Barnes found himself an outsider at the end of his life, but he made a difference to a lot of people. He gave and shared compassion, and up to the end, he fought a good fight and found a lot of friendship. ...


CNN National Headlines
»
Outcry triggers calls for a federal investigation
»
City marshal convicted for death of boy shot in father's car
»
Couple accused of killing disabled son before fire
»
Teen blogger granted US asylum
»
Residents called to help solve teen's sexual assault on Facebook Live
»
Hacking suspect's parents say he won't flee
»
MS-13 gang member arrested in 2-year-old's sexual assault
»
Ex-Penn State president convicted in Sandusky case
»
Shooting shuts down Vegas Strip
»
Pig-masked man among burglars to hit Bellagio

NPR National Headlines
»
'Open Schools' Made Noise In The 70s, Now They're Just Noisy
»
In Conflict With Trump Agenda, California Sets Stricter Auto Emissions Standards
»
How Much Are Colin Kaepernick's Political Views Impacting His Unsigned Status?
»
Concerns After Texas School Opens 'Prayer Room' That's Attracting Muslim Students
»
Words You'll Hear: Freedom Caucus' Role In Health Care Bill Withdrawal
»
U.S. Acknowledges Mosul Airstrikes That Residents Say Killed More Than 100 Civilians
»
Trump Backlash In Germany Gives Merkel Challenger Martin Schulz A Boost In Polls
»
If Congress Kills FCC Privacy Rules, 'Little' Would Protect Consumers From Providers
»
To Put You At Ease With Creepy-Crawlies, Entomologists Face Your Fears
»
Canadians Divided Over Flood Of Refugees
---
Local and State News and Views...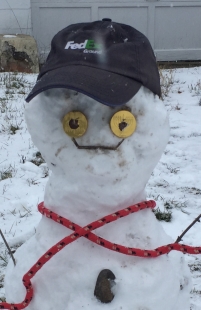 Frosty was not the traditional snowman.
Frosty the Snowman provided a chilly break from Florida's warmer winter weather
January 11, 2017
By: Mike Abrams

Building our snowman outside in blustery weather in Horseheads, N.Y. reminded me that I was glad I didn't forget to bring my gloves while visiting my son, his wife, and our granddaughter up north.
Yow, it was cold, and it can get cold enough to persuade anyone to run back into the house to catch up on the heat.
For my son Matthew, his wife Cindy and their daughter Kalina, snow was no big prospect. Running out to play in the snow would be considered an act of craziness if you had to endure it every winter.
As I sat in the passenger seat and watched daughter-in-law Cindy navigate through what looked like a blinding snowstorm to me, I thought about having to drive through these things on a regular basis. It is then that I began to appreciate living down South, at least out of the way of the flakes. We were perhaps 30 miles from Horseheads, which is near Elmira which is near Corning. I am not sure how anyone could see the highway.
It looked from the car windows that we were isolated in a bleak, no-man's land, creeping along while snow lashed at the car and was illuminated in the headlights. I doubt that anyone could see more than 20 feet ahead, but by instinct, the driver kept up a resolute speed of possibly 20 mph. The minutes seemed to turn into hours for me as I wondered if we would ever get home.… (Read More)
---

Women prisoners count their blessings on a tearful Thanksgiving at Lowell Prison
November 30, 2016
By: Jack Strickland

It's hard to find something to be thankful for inside a penitentiary. At Lowell Correctional Institution, at Thanksgiving, prisoners seemed determined to overcome their harsh surroundings and give thanks.
…
(Read More)

"Souls to the Polls" march re-enacts history to inspire students at FAMU to vote in the election
November 08, 2016
By: Jasmine Glover

The true spirit of voting history goes back to the time when African Americans were not allowed to vote.
"Souls to the Polls" was an effort to get the students… (Read More)
---

Opinion...
I wish I would have hugged my Dad who taught me so many lessons about life
By Dominique D. Roy
Florida A&M University
One of the many misconceptions that we have in life is that we as humans always have time to "do it later."
It's a cliché to admit that we know that there… (Read More)
---

Florida Tales...
Gator gym team changes sadness to a smile for cancer victims at Hope Lodge
By Jack Strickland
They brought hope to Hope Lodge. Last week, the number three nationally ranked Florida Gators Gymnastics Team hosted a dinner with cancer patients, their families, and caregivers. The college students were a big hit at the American… (Read More)
---
The Outlook...
---